Wood Pellet Boilers
Wood Pellet Boilers – SOLARvent ® IQ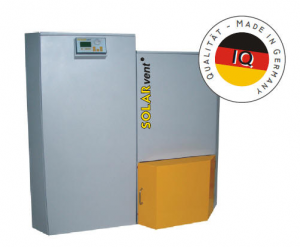 We supply Wood Pellet Boilers in the Irish Market with the outputs from 4 kw to 27 kw and has the highest efficiency of 97%. based on good quality wood pellets with a ash melting point above 1300 degrees.
The SOLARvent IQ Wood Pellet Burner and Solar Heater Systems are manufactured to a technical specification suitable to the requirements of buildings in Ireland.
You will also find information on heat output in the brochures.
If you require any more information please do not hesitate to contact us.
Downloadable Brochures: My pellet heating | See the difference
The new SOLARvent heating is more convenient than ever before. You only need to adjust the desired room temperature and assistant converts the necessary mass of fuel in the heating boiler and ignites the wood pellets automatically. The mass of fuels is continuously carried into the burner depending on the thermal requirements of the house.
While gas and oil only exist in limited quantities and have to be imported from abroad, wood pellets are a local, always available fuel.
With a pellet heating system from SOLARvent you make yourself independent from the global energy industry, the dollar rate and from potential crises and respectively wars in the middle east. While the price for conventional energy sources rise continuously, the price for pellets remains
Benefits
Blue Angel Certification
Boiler has been tested by Tav Rheinland in accordance to Din En 303-5
Long living product with robust unit, using 5ml metal sheets for casing
98% German Manufactured
Easy insulation in the case of combination with Solar Panels, as all connection are already there, including Software Controlled Solar circle
Automatic Drop Down Heat Exchange
Cleaning Timed Per Month
Chimney Draw 3-10 Paskals, due to already integrated ID Fan
Weight of Unit 450kg. When separated Hopper is 150kg, Boiler is 300kg
Pellet Storage is 250lt. Choice of Vacuum Auger, Manual. Choice of automatic Ash Removable System
Low emissions mainly Co2 and Fine Dust
Priority Timed Hot Water, with four   individual heating circuits
Customer saves money with fuel costs
The pellets are burned completely pure with highest efficiency
Boiler works with high efficiency and wood pellets with ash melting point above 1300 degrees
95% efficient Even Part Load 4-12 KW
Boiler Sizes 120,150,200,270,IQ Controlled Software
Boiler Contains a completely automatic three way air distribution system
Partition Burner with Fast Cleaning Flap
Literally no need for a thermostatic valve due to IQ controlled circulation pump
Integrated with Solar. No Solar control required
Can be adapted to all heating systems including underfloor heating
Full warranty cover, with annual servicing,  full service backup.
Long living product with servicing, twenty years or better
National Sales
CO2 = Neutral
As renewable fuel, wood burns CO2 neutral. This is especially important because CO2 is considered to be one of the main causes of the Greenhouse Effect. Heating CO2 neutral means that by heating with wood only the mass of CO2 is released which the tree absorbed during its growth. The CO2 cycle is thus closed.
Wood Pellets: from remaining wood to a valuable fuel:
Wood Pellets consist of 100% natural wood. The raw material for the pellet production is wood shavings, which are obtained in great quantities in the wood processing industry. Without the addition of a binder the natural raw material is compressed under high pressure and formed  to cylindrical rolls known as pellets.
Regular quality checks guarantee a clean fuel with low residual moisture and high fuel value (approx. 5kWh/kg). From remaining wood to a valuable fuel.
AJ Tinney Heat Services are the agent for SOLARvent® in Ireland. SOLARvent®  IQ Wood Pellet burners and Solar Heating Systems are manufactured in Germany.